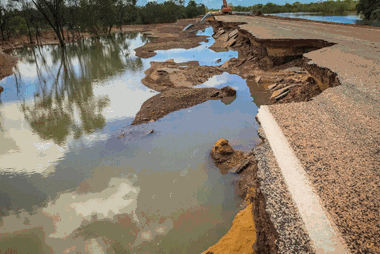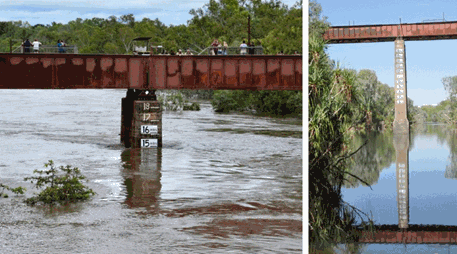 Damage to Highway 1 after floodings            Katherine Bridge in February (left) and July (right)

Is it wise to travel the tropical north of Australia in the wet season?
The decision is yours. We do not claim to be meteorologists, however based on our knowledge, our own experience, as well as feedback we continuously receive from our customers, we strongly suggest to travel outside "the Wet". In the northern part of the continent, 'the Wet' annually wreaks havoc by means of severe cyclones and torrential rains, resulting in flooded highways and extreme high humidity.
Because of these unpleasantly muggy conditions, mosquitoes and sandflies are out in force to spoil your holiday fun. Being in the tropics in the wet season is definitely not recommendable, especially not for kids as the hot and humid conditions are a recipe for many sleepless nights. Even if an air-conditioning in the living area of your camper (only an Apollo Adventure 4WD features this) could cope with this heat and humidity (which it can't): who could possibly sleep in a camper with a noisy, rattling airco going, keeping you and your fellow travellers in the vicinity of your 4WD wide awake!
It is definitely not all doom and gloom in the wet season up north: there are definitely pockets with beautiful weather and sunny days, but there is still the high humidity which makes you feel like having a shower every 5 minutes. Flooded highways and inundated campgrounds in "the Wet" will definitively throw a spanner in the works if you have a fairly tight travel itinerary. So unless you have unlimited time for your trip, we recommend to stay away from the Northern half of Australia until at least late March.
Watch this video of floods in Broome in January 2022.

How about travelling by 4WD camper in the Top End and Kimberley during the wet season?
So what if you still wish to continue with your travel plans, despite the above mentioned warnings?  Well, just keep the following info in mind: all unsealed roads in the Kimberley and Top End are closed during the wet season. Think of the Gibb River Road, the Bungle Bungles, Jim Jim Road etc. These are no-go zones from mid-December until at least the end of March. In some years roads were even closed until late April due to extensive damage to the road surface sustained during the floods.
As there aren't many travellers who start or finish their holidays in Darwin in these months, more and more rental companies close their camper depots during the wet season. Please note that if you do decide to travel up north in the wet season, you will need to discuss your planned itinerary with the depot manager on pickup of your 4WD camper. He/she is authorised to restrict you from entering particular areas based on the road and weather conditions at the time.  
A good alternative for a trip up North in 'the Wet' is a holiday in South Western Australia. The weather in that part of the continent in the months of December, January, February and March is usually pleasant with moderate to warm temperatures while all unsealed roads will be open then.