4WD camper Australia, 
4x4 motorhome rental, off road caravan hire
4WD camper Australia? You can travel through Australia in several ways. A lot of travelers follow the highway by car and spend their nights in hotels, motels or hostels. But if you really want to discover and experience the country, you should go camping. A 4WD camper is by far the best way to discover (Outback) Australia! Traveling off road by 4WD campervan or 4x4 motorhome, you'll enjoy lots of freedom. If you like to keep it simple, a 4WD car with camping gear is a good alternative to a 4x4 camper. Australia is a perfect country to rent a 4WD camper and go camping, there are thousands campsites and camping areas. They are situated nearby the cities, next to the ocean, close to the rainforest or in very remote areas. Many locations are accessible by 4WD only. There are commercial camping and caravan parks with good sanitary facilities, campers kitchen, playground and perhaps even a swimming pool. You can also stay at one of the numerous National Park camp grounds with your 4WD camper. Here you won't have a lot of luxurious facilities but it will make you experience Australia to the fullest. If you're lucky you might spot some native animals like kangaroos, koala's, possums, blue fairy wrens, king parrots and rainbow lorikeets. In most cases there are good places to go for a walk nearby the camp grounds. If it's allowed you can enjoy a campfire at night and listen to the sounds of the forest under a great starry sky. Unlimited freedom? Travel Australia by 4WD camper! A great alternative is the combination 4WD car and off road caravan.
Australia off road by 4WD camper
Traveling the dirt roads of Australia by 4WD camper requires thorough preparation. At Australia Campers, you have come to the right place. Australia is home to many unsealed roads that lead to beautiful camp grounds. The country is a true playground for the off road enthusiast. Down Under there is a lot to discover off road by 4WD camper. Even in the not-so-immediate areas, dirt roads or 4WD tracks lead to bush campsites or magnificent coastlines. Are you traveling with children? They often enjoy a bush campsite just as much as a commercial campsite with various facilities! Whether traveling with children or not, after booking you will receive a guide containing lots of tips on driving a 4x4 camper. All the information is based on our very own off road driving experiences. Several of our employees have experience traveling unsealed roads across all parts of Australia with their families (periods ranging from 6 weeks up to 6 months). For example, a colleague traveled the Perth-Darwin route four times, as well as the (often underrated) Red Centre by 4WD camper.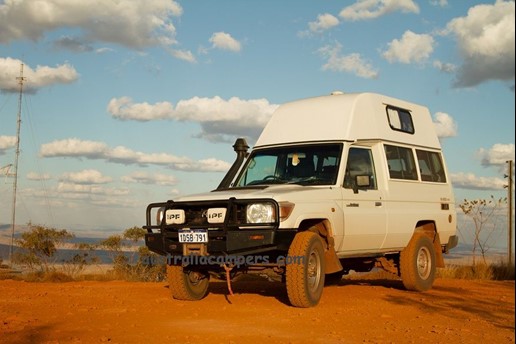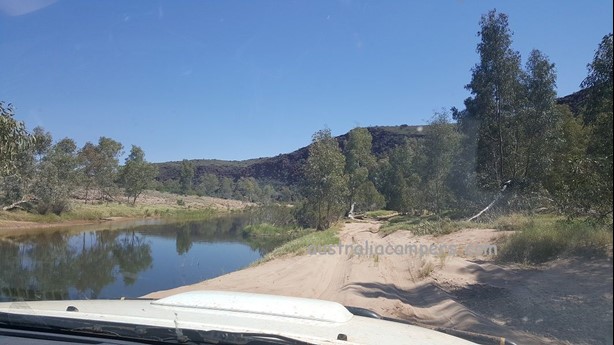 Most important: please plan enough time if you decide to go on an off road trip through Australia! Are you traveling with 2 adults by 4WD camper? Plan at least 28-30 days for the Darwin-Perth route for example. Of course, you could travel this route in a shorter time period, but it will be pretty much impossible to visit all the highlights. Also, remember that the driving speed on 4WD tracks and gravel roads is much lower than on sealed roads! We often hear stories about people who weren't able to visit places such as Kooljaman, the Mitchell Falls, Mornington Wilderness Camp, and parts of Kakadu NP due to a lack of time. Are you traveling with children in Australia? Then we recommend that you plan about 5 weeks for the route from Perth, via Broome, to Darwin (or vice versa), if not more. Great 4WD campers are the Hilux Pod, Troopcarrier 4WD, Hitop Bushcamper and Landcruiser Workmate 4WD.  
Are you planning to travel from Darwin to Alice Springs by 4WD camper? 
Then make sure to schedule carefully! There are quite a few travellers who think they can do this in 10 days, including a visit to all highlights. But we're talking about a route of roughly 2900 kilometres. That includes a number of visits to locations far from the main highway. If you want to travel as thoroughly as possible and therefore want to see most of the route with your 4WD camper, you will end up closer to 3650 kilometres. Our advice for this route is to schedule for at least 19 days.
If we just look at the Red Centre, we will see that the average traveller for this region does not plan more than 4 to 5 days. Uluru is of course the main tourist draw and sometimes people take a daytrip to the Western MacDonnell Ranges. However, it is worth spending more time in this area because there is much more to see than just the very touristic Ayers Rock, Kata Tjuta and Watarrka NP. Examples that come to mind include Palm Valley, Ormiston Gorge (Pound Walk), Chambers Pillar and the Eastern MacDonnell Ranges. If you have the time and want to visit other locations besides Uluru and Watarrka NP, try to plan at least 9 full days for your trip through the Red Centre.