Hilux 4 berth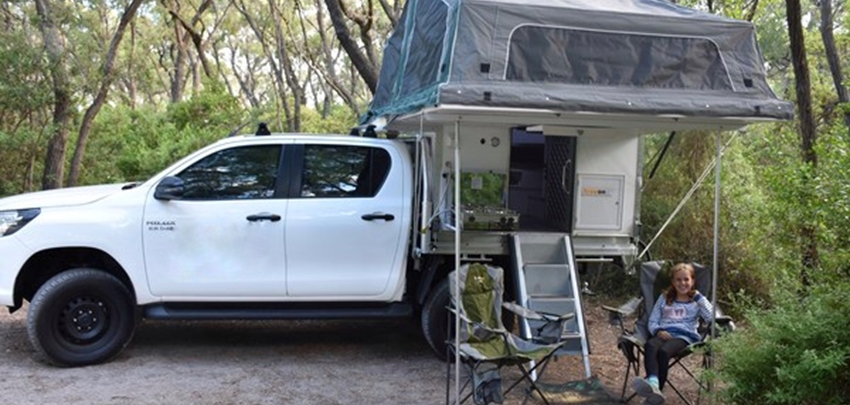 Depots: Adelaide, Broome, Darwin, Perth.  
This Hilux has a rapidly deployable living and sleeping space. While the space looks compact, it does boast four beds: 1 double bed and 2 single beds. It also has a large  fridge (100 litres capacity which is unusual in most rental 4WD campers), 110 litre water tank, foldable 120 watts solar panels, portable 2 burner stove, a simple handheld shower, side awning and recovery kit including 12V air compressor. Five people can be inside the 4WD while driving. Because it only has 4 beds, a tent with accessories can be supplied for the fifth person.  
Although the Hilux marked as a 4-berth camper it's good to know that the single beds have a length of 180 cm and the smallest bed is only suited for kids between 4 and about 8 years old. The bigger single bed can be protected with a safety bar. While camping the single mattress can be stored on the double bed. When resuming the ride you have to store the single mattress on top of the kitchen unit before folding the living- and sleeping space.
A Hilux is standardly supplied with two spare tyres. One on the back of the 4WD the second one on top of the car, on the roof rack. You can also store several bags over here whereby we especially recommend the duffle bags from North Face or similar.
If you are spending several days in one location and you want to see the surroundings, you can disconnect the living and sleeping area from the car and leave it standing on the campsite on pedestals. When you return and you want to reattach it to the 4WD, you simply reverse into it.  
The benefit here is that it only takes 4 steps to walk out of the camper, which is a big difference compared to 4WD's equipped with a rooftop tent. Let's say you when travelling with a rooftop tent 4WD and you needed a toilet break at night, you'd have to descend down the steep stairs, making the non-steep steps of this Hilux much safer!    
Please be aware that booking welll in advance is a necessity for this very popular model. Because of the standard limited availability in this category (only 5 in fleet) these 4WD's are mostly fully booked 6 to 8 months ahead, especially for the dry season in the Kimberley, Top End and Cape York Peninsula (June until September).
Features: Toyota Hilux, 2800cc diesel, automatic transmission, airco in drivers cab and rear, reversing camera, radio with USB input, 140 litres fuel tank, fuel consumption 12-13 litres per 100 km*, 5 seats with seat belts, 4 sleeping places (2 adults and 2 kids), power supply 12V/240V, set of foldable solar panels, dual batteries, manual awning, 2 spare tyres and UHF radio. A Hilux is maximum 3 years old. Headroom is 203 cm. Very good ventilation possibilities due to the large top windows. 
* depends on road conditions, driving style and airco use.
| | |
| --- | --- |
| Equipment |   |
| bed L 198 x W 148 cm | 110 litres watertank + fill hose |
| single beds L 168 x W 65 cm & L 166 x W 52 cm  | 2 interior and 1 exterior 240V power outlet  |
| sleeping bags, sheets, pillows and cases | 2 interior and 1 exterior 12V power outlet  |
| outdoor table and chairs | 240V powercord |
| large 12V/240V fridge | flyscreens for top windows |
| portable 2 burner gas stove  | 12V fan |
| 4 kg gas bottle | 12V external shower (cold water only) |
| crockery and cutlery | LED lighting |
| pots, pans, cups and bowls | towels and tea towels |
| sink with 12V pump (cold water only) | first aid kit |