Hilux 2-4 berth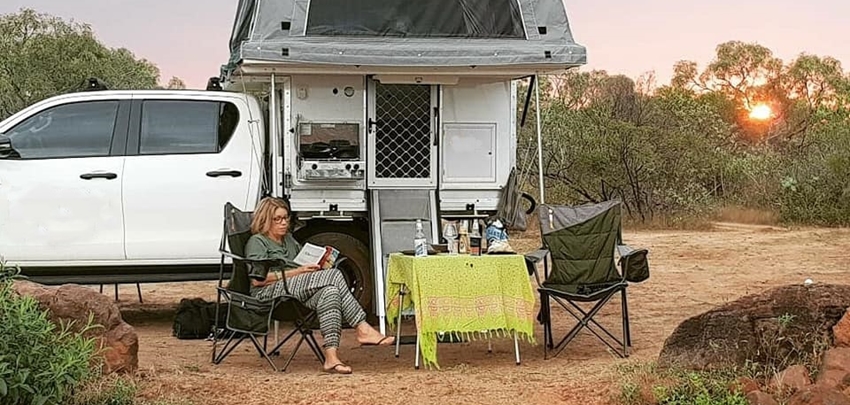 Do you want to travel comfortable through the Outback? Then consider renting this well-equipped 4WD camper. 
It has two spare wheels, a recovery kit, UHF radio and a high-quality air compressor. It also comes with features that other 4WD campers don't have such as a fixed bed with high-quality mattress, 120 amp battery and built-in solar panel, LED outdoor lighting, 100 litre fridge with freezer, indoor and outdoor cooking with grill (if the weather is bad, you have to cook outside with other campers), shower, portable toilet, 240V external inlet socket and USB charging points. That means great camping in the bush!
Depots: Broome, Darwin, Perth. No east coast rentals. The minimum driver age is 23. Low availability applies for July and August 2024.
Rentals to/from Adelaide are possible for an contiguous period of at least 10 weeks and then only during the months of November to March. 
A Hilux 4 berth is most suitable for a family of 2 adults and 2 young kids (4 till 12 years old). Further down this page you will find some information about the Hilux 2 berth.
Each Hilux 4 berth has a rapidly deployable living and sleeping space (maximum 3 minutes). While the space looks compact, it does boast four beds: 1 double bed and 2 single beds. It also has a large  fridge, 110 litre water tank, built-in solar panel, portable 2 burner stove, a handheld shower, side awning and recovery kit including 12V air compressor. Five people can be inside the 4WD while driving. Because it only has 4 beds, a tent with accessories can be supplied for the fifth person.  
Although the Hilux is marked as a 4-berth it's good to know that the single beds have a maximum length of 170 cm. Therefore both single beds are most suitable for kids between 4 and about 12 years old. The bigger single bed is also suitable for not too tall adults and can be protected with a safety bar. While camping the single mattress can be stored on the double bed. When resuming the ride you have to store the single mattress on top of the kitchen unit before folding the living- and sleeping space.
A Hilux is standardly supplied with two spare wheels: one underneath and the second one on top (roof rack). You can also store several bags over here whereby we especially recommend the duffle bags from North Face or similar.
The benefit here is that it only takes 4 steps to walk out of the camper, which is a big difference compared to 4WD's equipped with a rooftop tent. Let's say you when travelling with a rooftop tent 4WD and you needed a toilet break at night, you'd have to descend down the steep stairs, making the non-steep steps of the Hilux much safer!    
Features: Toyota Hilux, 2800cc diesel, automatic transmission, airco in drivers cab, reversing camera, radio with USB outlet, 143 litres fuel tank, fuel consumption 9-10 litres per 100 km* (on sealed roads), 5 seats with seat belts, 4 sleeping places (2 adults and 2 kids), power supply 12V/240V, 120 amp battery and solar panel, recovery kit, manual awning, 2 spare wheels and UHF radio. A Hilux is maximum 3 years old. Headroom is 203 cm. Ventilation possibilities due to the large top windows. 
Hilux 2 berth: besides the 4 berths there are also 2 berths for hire. There are three differences with the 4 berths, everything else is the same: 1) the single mattress in a Hilux 2 berth is missing. 2) a maximum of two persons can sit in the driver's cabin. Behind the two seats you can store a part of your luggage. 3) the driver's cabin has two doors.
Toilet and shower: a portable toilet can be rented for an extra charge. If you rent the camper for longer than 6 weeks, this is free. Outhouse shower cubicle can be installed on camper rental periods over 6 weeks. Available for both models.
Please be aware that booking welll in advance is a necessity for this very popular model! Because of the standard limited availability in this category (only six 4 berths and eight 2 berths in fleet), these 4WD's are always fully booked months ahead. 
* depends on road conditions, driving style and airco use.
| | |
| --- | --- |
| Equipment |   |
| bed L 198 x W 148 cm | 110 litres watertank + fill hose |
| single beds L 170 x W 65 cm & L 166 x W 52 cm  | 240V power outlet: 2 interior and 1 exterior  |
| sleeping bags, sheets and pillows  | 12V power outlet: 2 interior and 1 exterior   |
| outdoor table and chairs | 2 USB charging points |
| large 12V/240V fridge and freezer | LED lighting |
| portable 2 burner gas stove  | 240V power cord |
| 4 kg gas bottle | flyscreens for top windows |
| crockery and cutlery | 12V fan |
| pots, pans, cups and bowls | 12V external shower (cold water only, despite the red tap) |
| sink with 12V pump (cold water only) | towels and tea towels |