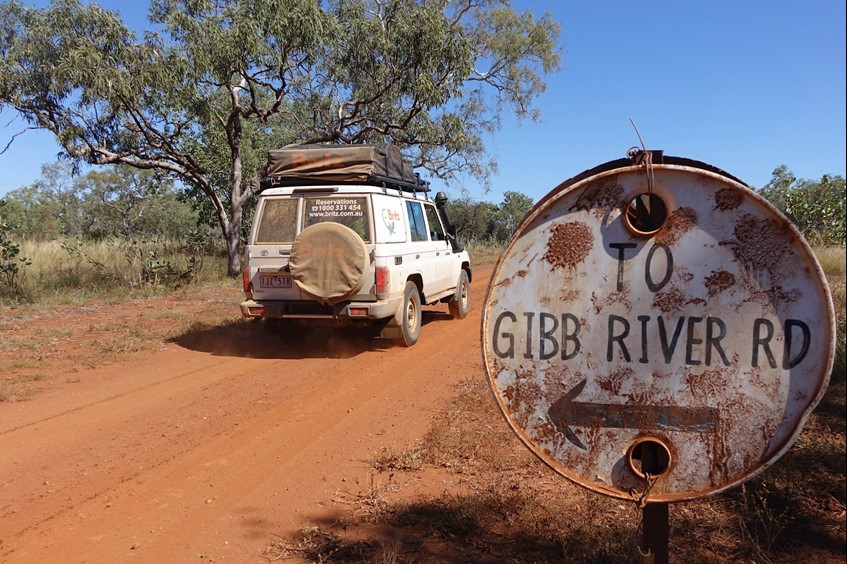 What transportation do you recommend for the Darwin-Perth route or vice versa?
Without a shadow of a doubt, either a 4WD camper or car. Western Australia and the Northern Territory are genuine 4WD destinations. There are countless beautiful spots to visit if you travel by 4WD. These spots are unavailable by 2WD transportation because of the existing road restrictions for these models. In other words, a regular car or camper is (fully) limited in accessing unpaved roads. If you travel with a 2WD vehicle, you will have to miss out on spots like the wonderful Purnululu NP, but also François Peron NP, Steep Point, Ningaloo Homestead, Cape Leveque/Kooljaman, Millstream Chichester NP, the largest part of Karijini NP, etc. Even the Gibb River Road with all its interesting side-tracks is no longer an option. There are also tracks that lead to beautiful and scarcely visited locations such as Burringurrah NP (Mt. Augustus). In the Northern Territory, you will have to miss out on places like the Jim Jim Falls and Twin Falls, Umbrawarra Gorge and Waterfall Creek/Gunlom. And it's all of these aforementioned spots that belong to the absolute highlights of the Perth-Darwin route.
As we see it, the most commonly made mistake is that people who travel by 4WD hardly take enough time to travel from Darwin to Perth or v.v. Keep in mind that the driving speed on 4WD tracks is much lower than on paved roads! To be able to drive the route peacefully, based on our multiple experiences we recommend to schedule at least 28-30 days for traveling by 4WD camper or car. You could of course cover the route in 21-22 days, but do keep in mind that you will spend considerable more time driving than originally intended and that you will have to cancel quite some sightseeing along the way.
Please don't pay too much attention to tour operator schedules! Many of them fail to mention the time one spends in the bus/car, but take it from us, it's a very long time indeed. We base this on all the people we've talked to who participated in bustrips during our travels in Western Australia and the Northern Territory! If you travel with children, we recommend to schedule at least five weeks for this enormous route, preferably more.
Even so, the route can still be covered with a 2WD vehicle. Along the way, you can occasionally just book a tour to places including Purnululu NP, Karijini NP, Geikie Gorge, etc. However, these trips are usually anything but cheap. In addition, you will have to pay considerable attention to your schedule. If you travel by 4WD, your schedule is fully in your control. Do note, however, that if you travel by 2WD, the entire trip will still be worth it! After all, many beautiful locations, parks and routes remain, including large parts of Kakadu NP, but also Katherine Gorge, Lake Argyle, Hidden Valley NP, Cape Range NP, the Ningaloo Reef, the Shark Bay area, Kalbarri NP, the Wildflower Way (in August or September), etc.
If you are well on time with scheduling the trip, but your budget is still unsufficient to rent a 4WD, we recommend that you postpone the trip to allow you to keep saving up funds. Hardly exciting, but this will allow you to make the most of your holiday when you travel by 4WD camper or 4WD car. What we commonly see is that those who initially finished the Perth-Darwin route or v.v. by regular car or camper, head that way again several years later and select a 4WD car or 4WD camper, just to be able to visit those spots they couldn't access during their previous visit.
As a closing note, the author of this text has personally travelled the route 4 times, once by regular car and three times by 4WD camper , so he speaks from a wealth of experience.